plausive
So last night at work I found a super cute Sherlock Holmes paperback boxed set from the 70's. If the art hadn't already won me over, the fact that P. G. Wodehouse wrote one of the intros would have surely done it.
As soon as I got home, I pulled out the copy of The Sign of Four and started to read.
Nothing could have prepared me for what came next.
Below is only an excerpt from the intro. I've never found it in another collection, and I can't find it online anywhere. If you ever see it, I really recommend picking it up. It's one of the best intros I've ever read.
…Even if he did totally troll me.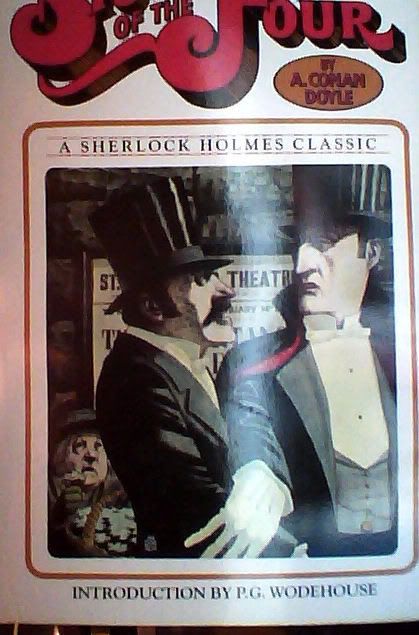 "It all boils down to one question- Why is a man casual about money?

The answer is- because he has a lot of it.

Had Holmes? He pretended he hadn't, but that was merely the illusion he was trying to create because he needed a front for his true activities. He was pulling the stuff in from another source. Where is the big money? Where it has always been, in crime. Bags of it, and no income tax. If you want to salt away a few million for a rainy day, you don't spring into 9:30 trains to go and talk to governesses, you become a Master Criminal, sitting like a spider in the center of its web and egging your corps of assistants on to steal jewels and navel treaties. I saw daylight, and all the pieces of the jigsaw puzzle fell into place. Holmes was Professor Moriarty.

What was that name again?

Professor Moriarty.

Do you mean that man who was forever oscillating his face from side to side in a curiously reptilian fashion?

That's the one.

But Holmes' face didn't forever oscillate from side to side in a curiously reptilian fashion.

Nor did Professor Moriarty's.

Holmes said it did.

And to whom? To Doctor Watson, in order to ensure that the misleading description got publicity. Watson never saw Moriarty. All he knew about him was what Holmes told him on the evening of April 24,1891. And Holmes made a little slip on the occasion. He said that on his way to see Watson he had been attacked by a rough with a bludgeon. A face-oscillating napoleon of Crime, anxious to eliminate someone he disliked, would have thought up something better than roughs with bludgeons. Dropping cobras down the chimney is the mildest thing that would have occurred to him.

P.S. Just kidding, boys. Actually, like all the rest of you, I am never happier than when curled up with Sherlock Holmes, and I hope Messrs Ballantine will sell several million of him. As the fellow said, there's no police like Holmes."